Station Roof Extension
Although the horrible outdoor conditions in the past couple of months had halted work on the station roof extension, recent weather has allowed some work to be performed. As seen in the photo, shingling has been completed on the south side, and as of this writing, the north side is almost complete. Finishing touches will be the addition of a ridge cap and a finial for the end. There will also be a fair amount of painting to be done under the roof.
— Lee Nonnemacher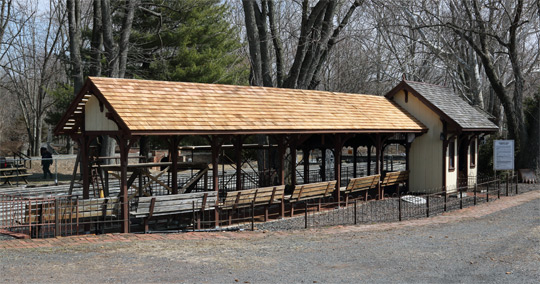 Spring Meet — May 23–25
The Spring Meet will be held on May 24th and 25th this year. As usual, running may start on Friday afternoon, May 23rd. Volunteers are needed for gate duty, station duty, and kitchen duty. Please sign up for a time slot when you arrive at the meet. Your donation of baked goods is always appreciated.
Please note: during the meet, the clubhouse refrigerators are used for food and drinks sold by PLS throughout the weekend. Should you need refrigeration for either personal use or items brought for the pot luck dinner, please use your own cooler if at all possible. Thank you.